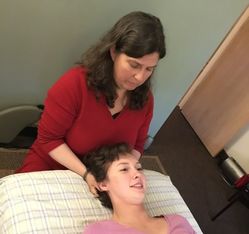 R E I K IThe Usui System of Natural Healing with Master Teacher Molly Deutschbein
Level One ClassSunday
, 9:30 a.m. - 5:30 p.m. $175
July 16, 2017at Spirit Organic, 720 East Ave, Rochester, NY 14607
This Level One training is a complete 7 hour class which provides you with all the essential tools and knowledge needed to enjoy the practice of Reiki. The course includes:
A Level One attunement which allows you to channel Reiki energy to heal yourself and others.
Comprehensive information on the history and origin of Reiki.
Basic information on the human energy field and the chakra system.
Training in the elements of Reiki treatment for yourself and others.
Hands-on instruction & practice devoted to giving & receiving a complete Reiki Level One session.
A detailed training manual for future reference.
Reiki Level One Practitioner Certification.
Molly Deutschbein is a
Traditional Usui Reiki Master Teacher, Biodynamic and Upledger Certified CranioSacral Therapist, licensed massage therapist
and
doula
, with many years of energetic healing experience. She is also a
trained herbalist and flower essence practitioner
.
Molly has been facilitating workshops and classes to empower people to care for themselves for more than twenty-five years.
To register call or text 585-746-4682Email molly@spiritorganic.netor visit www.SpiritOrganic.netRegistration for all classes requires a nonrefundable deposit of $50.
(Deposit can be applied to other Spirit Organic services or classes. Register with a friend and get a 10% discount)