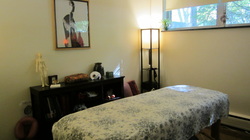 Kurt is currently not accepting new clients except those referred by Molly

A Swedish Massage is the classic relaxation massage. Swedish massage is performed on a massage table with you disrobed to your comfort level, enveloped in sheets or towels to keep you warm and secure. You have your choice of oil, cream, or lotion as an application agent to reduce friction on the skin. This allows for smooth flowing strokes which encourage a relaxation response. The massage is tailored to your individual needs and will leave you with a deep sense of well-being.

Swedish massage can be more than just a method of relaxation. Swedish techniques can shorten recovery time from muscular strain by flushing the tissues of metabolic wastes. It increases blood and lymph circulation, and stretches ligaments and tendons, keeping them supple and pliable. Swedish Massage also stimulates the skin and nervous system and soothes the nerves themselves at the same time. Swedish massage is an excellent tool for stress management and has many specific medical applications.

Swedish massage can be applied with a range of pressure from mild to deep pressure to meet your personal needs.

---