From the moment we opened our doors,
Spirit Organic has welcomed people and families of all kinds.
All are welcome here.
Please let us know how we can help you feel comfortable.


Molly (Mary) Deutschbein

sees all ages and stages in her private practice from newborn babies to elders in their nineties. She uses gentle touch modalities, mindfulness practices and client self-care education to help her clients achieve a deeper connection to their bodies, lessen or eliminate pain, increase function and feel more content. Molly empowers her clients (and their parents when seeing children) to see the healing force within themselves, to recognize that while a "healer" may be a cheerleader, coach and source of sustenance, the healing actually occurs within the client using their tools and resources while being given caring support.

Molly is a NYS licensed massage therapist (2005) and an Advanced Craniosacral Therapist with both Upledger Institute Techniques Certification (2006) and Biodynamic Certification (2015). She is a certified practitioner of the Arvigo Techniques of Mayan Abdominal Therapy ™ (2012) with advanced pregnancy training, and she is a Reiki Master Teacher (2004). For more details on her extensive Craniosacral coursework click

here

.

Molly was an independent childbirth educator and peer lactation counselor for six years, supporting hundreds of families as they added a new member to their family. She is a certified doula who has attended homebirths, VBACs, a breech birth and many variations on "normal" births.

As a volunteer, Molly had staff privileges at Strong Memorial Hospital from 2005 to 2010, where she worked weekly as a member of the Palliative Care team bringing gentle massage, craniosacral therapy and Reiki techniques to patients with chronic illnesses, receiving cancer treatment or moving into end of life in hospice.

Molly's current work project is studying biomechanics with Katy Bowman so that Molly can give suggestions to her clients for getting "nutritious" movement and stretching throughout the day.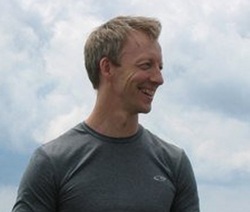 Kurt Deutschbein is a NYS licensed massage therapist, certified personal trainer, Egoscue certified postural assessment specialist and a martial arts practitioner. He brings a great deal of knowledge to his bodywork practice drawing on over 20 years of study in modalities such as nutrition, herbal medicine, homeopathy, yoga, martial arts, traditional Chinese medicine and Qigong.

Kurt's practice is built around helping individuals to improve the quality of the daily activities they enjoy. Whether bouncing back from an injury (medical massage), managing pain (massage, postural correction) and/or striving to improve the quality of activities from gardening to sports competition (functional fitness training).
---