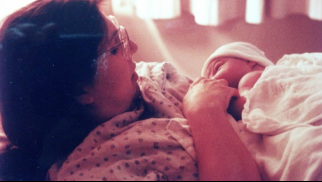 Published in the October 2015 issue of "Allen's Creek Living"

We've all heard the expression "Breast is best." It is usually heard as "Breastmilk is best." There is incontrovertible evidence that there is no superior source of nutrition for a human less than twelve months old, and it is wonderful that we recognize the value of providing baby with a custom-made food.

Some new parents think the benefit is just in the breastmilk. When health care providers say "Breast is best," they need to be clear with parents that it is the action of suckling at the breast that is also best for baby. We could consider breastfeeding to be baby's first bodywork.

While the desire to nurse at the breast is innate in the newborn, the physical act of breastfeeding is a learned skill for both the mother and the baby. Breastfeeding requires a great deal of coordination of the baby's nervous and musculoskeletal systems, and there is skill to facilitating the most beneficial "latch" of the baby's mouth at the breast; this is why La Leche League, an international breastfeeding peer support group, refers to breastfeeding as a "womanly art" that we learn from other experienced mothers.

Having baby at the breast, baby's tummy against mother's body, the mother has a natural opportunity to stroke the baby's body. She can soothe the baby's nervous system with her facial expressions and the baby can reward the mother with eye contact and nonverbal cues of being satisfied.

The baby's tongue and roof of the mouth need to work together to draw the mother's nipple far back into the baby's pharynx to produce a seal. Then the baby's tongue and throat muscles must work together to produce a coordinated "suck/swallow/breathe" rhythm that can convey the breastmilk expressed by the tongue (referred to as a "bolus") down to the baby's esophagus, where the baby's involuntary muscles will take over and move the fluid into the baby's stomach.

Breastfeeding is a wonderful diagnostic tool. A problem that presents at any point can provide valuable cues to developmental challenges. Any soreness of the mother's nipples can be an indication that the baby's body is having a hard time coordinating the suck/swallow/breathe. Lactation consultants assess the suck/swallow/breathe and assist mothers with changes in positioning that might help. They also assess if the baby has soft tissue challenges that might be making it difficult for the baby to coordinate all of the muscles that are required to have an effective suck/swallow/breathe . The lactation consultant may refer the mother and baby to a chiropractor, osteopath or craniosacral therapist for help in resolving soft tissue restrictions.

Breastfeeding is best feeding, facilitating baby's optimal physical development through excellent nutrition, brain stimulation and body coordination.